| | | | |
| --- | --- | --- | --- |
| The Haunted Enwave Theatre | | | |
Since 2006 ParaResearchers of Ontario, and The Toronto Ghosts & Hauntings Research Society have been fortunate enough to have the ability to utilize this historic building in the heart of Harbourfront Centre for training seminars for new investigators, and to conduct a series of experiments in Electronic Voice Phenomenon also known as EVP. The theatre has been featured in several media reports, and at least two television programs on ghosts, and hauntings. Most recently in 2009 a staff member confided to us that he saw the apparition of a headless woman while cleaning the stage. 
For past investigations, and the history, and ghost stories associated with this location when the theatre was using a different name please read the article entitled The DuMaurier Theatre.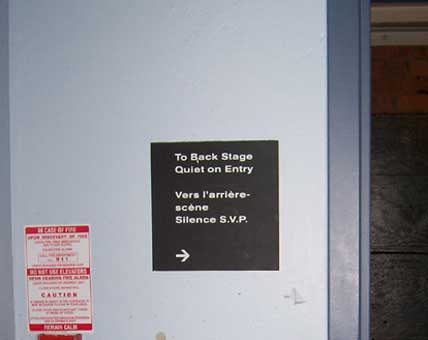 January 2009

In January 2009 we returned to the Enwave Theatre, and continued with our EVP experiments. Matthew, Sue, John, Maria, and Ian conducted the investigation, and assisted John with both interactive, and abandon and retrieve EVP collection methods. We are going through our tapes, and anything of possible interest will be posted to this page.

We were very fortunate during this investigation to be able to interview a new witness to the ghostly activity at the theatre. The witness is a current staff member of the Enwave who in the past couple of month while cleaning the stage area was startled when he saw what appeared to be a woman while looking downwards. He was initially startled as he was the only staffer in the building at the time. When he quickly glanced upwards he was further shocked to see that the woman who was dressed all in white appeared to be headless. He could clearly see her legs, torso, and arms, but nothing where the neck, and head should be. After a few brief moments she vanished before his eyes.
While admitting he was very frightened at the time, the staffer did tell us he continued his work that day, and will stay on with the theatre because although he knows these things do exist because of seeing it with his own eyes, he also has a very strong belief in God, and does not believe God would allow him to be hurt by ghosts.

We very much want to thank the member of the cleaning staff  (witness wishes complete anonymity) who shared this with us! Could this in fact be Ontario's very first reported headless ghost!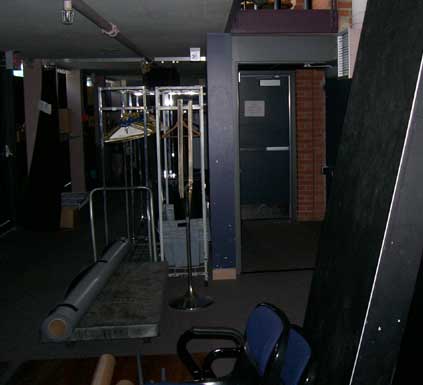 Backstage at the Enwave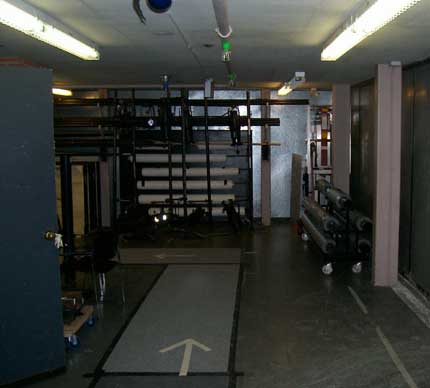 Another peek backstage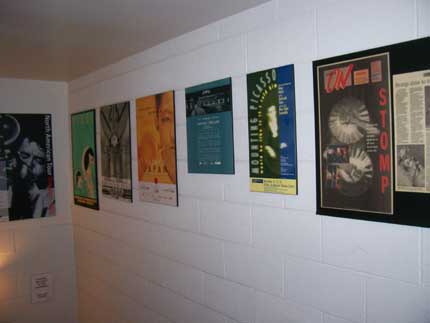 Posters from previous shows in the dressing rooms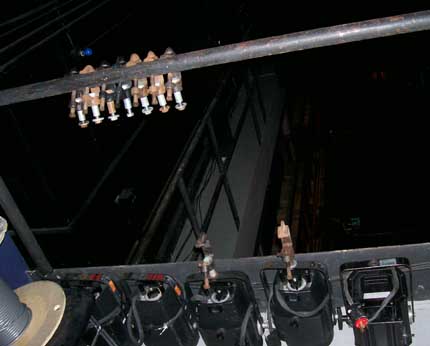 Up on the catwalks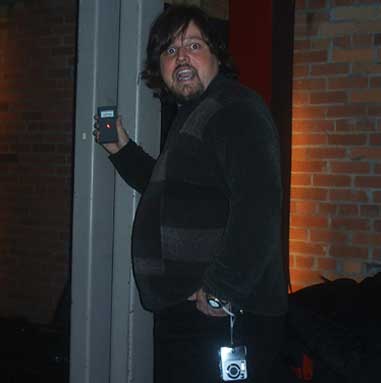 Matthew with the machine that goes ping - EMF detector


 

 

Continue to next page for previous investigations, and EVP clips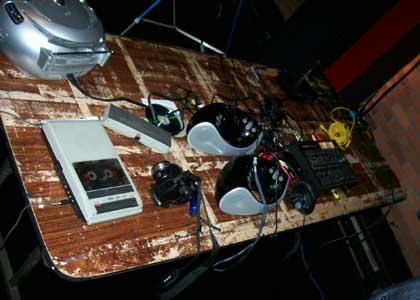 Our paper on EVP experimentation along with examples will be posted to this new page shortly. Experiments were conducted both with, and without spirit medium Lynn Leyland in attendance. Both interactive, and abandon, and retrieve methods were used. One EVP that was captured is in French, which is intriguing for us as this is the first time this organization has obtained a distinct EVP in a language other than English.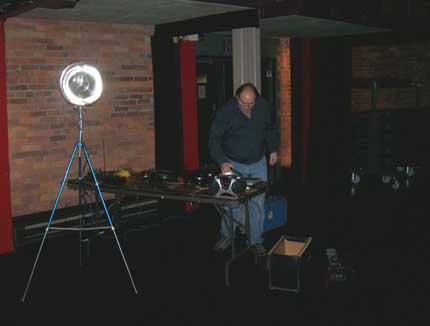 Pictured above is senior investigator, and electronics guru John Mitzi setting up in May 2007.

November 2007: Report and observations of the new Enwave theatre.
John Mizzi Senior Investigator

First I would like to say that I really appreciated the opportunity to experience the Theatre once again. This time around yielded some good result. Even though the number of EVP"s was small the quality was good I believe the acoustics of the Theatre really helped in the recording and has only proved to me more that a Parabolic dish is what is required for evp recordings as I captured sound that only the dish could distinguish.

I would also like to say it appears paranormal communication is not just relegated to voices alone most of what you will hear is rapping's on the steel rails. When I asked Chris if he had any similar sounds on his recording device he mentioned that it might be the heating system however there is one instance that dissuades that theory When Lynn is saying that there was a "spirit" who liked to tap. The noise occurs but the last two taps are on my Parabolic dish which is made of stainless steel I know that sound anywhere I heard it so many times as I was making the microphone. Lynn was nowhere near the device and neither was I in fact she was sitting on the stage at that time.

Check out " hfront my parabolic again" Couple this with Lynn's accurate descriptions of the rapping's and indicating that it liked to bang on the steel rails. It seems pretty convincing to me especially in the evp "hfrontparabolic" We actually hear the rapping's then Lynn says she feels like someone wants to make some noise. I believe she heard it psychically first.

Now we will get the curious mystery of a conversation Sue and I had I was on the upper Mezzanine and Sue was on the stage the first thing I want you to hear is the sound of what happens when a door opens. "hfront2" It sounds like a evp but it is not it is the gas shock of the door closer as a door is opened. Why do I want you hear this? I was standing by an entrance door on the second catwalk. Before you hear the evp you will hear the gas shock sound except the door never opened and no one walked in could this have been something entering the room?

The other mystery is the first evp in the recording takes place at the end of one of Sue's (Director Sue Darroch) sentences she had been talking for a long time (Sorry Sue) I believe the evp said "I hate naterers"

Even though these evps are clear in their recording the words themselves are inconclusive. You will find that some of my recordings seem double I just wanted to show that the evps were recorded on two different recording devices. In the version where Lynn says he likes to tap you can hear the steel rail and then my dish being tapped but my in another version my mike only you will only be able to make out the dish being tapped About the growl (another member detected a possible growl) I did record it but it did not become clear enough on either recorder to prove inconclusively that that is what it was however strange that both Chris and I heard it and I recorded similar sounds at another investigation site.

Please click on the links above to hear these possible EVPs. then the second one on the same recording said something but I cant quite make it out could it be French?